Are you struggling to come up with
something new and fun for your child's birthday party?
You're tired of the same old ideas and you want to do more than hit the party store to buy themed napkins.
You're busy with work and other obligations and you don't have the time to spend hours planning an elaborate party.
You want a party atmosphere that's fun and safe for kids – and where you have some help supervising them.
Planning your child's birthday party can feel more like work than fun
LUCKILY THERE IS A COMPREHENSIVE SOLUTION…
You have to assemble a guest list, buy decorations and a cake, plan activities, accommodate adult guests, and deal with a house full of over-excited kids.
Instead of taking everything on your shoulders, it's time to try something different this time. Provide your child with the kind of birthday party that they'll remember for years to come – and that their friends will remember, too.
THE PERFECT SOLUTION FOR BUSY PARENTS
FitKidz! USA - Themed birthday parties are the perfect solution for busy parents. We'll do most of the planning for you, and provide you with a safe, fun environment where your kids and their friends can learn some fun fitness moves and experience the thrill of a FitKidz! USA class.
Kids have an outlet for their birthday energy
Rain or shine, your child's birthday party at FitKidz! USA will provide a healthy way to burn off excess energy and deal with the excitement of the day.
Let us do the heavy lifting
You'll have to decide who to invite and do a few other things, but we'll handle the bulk of the planning. You can show up knowing that your child will have plenty to do!
Leave the set-up and clean-up to us
Setting up for (and cleaning up after) a kids' birthday party can eat up your entire day. When you let us host your party, you can leave all of that to us – so you can relax and enjoy your child's special day.
EDUCATION AND FUN WRAPPED INTO ONE
Our fun fitness based - theme birthday parties are great fun whether your child is in great shape or not. We'll provide some basic instruction and FUN activities - and your child and their friends will learn something new while having a BLAST!
Great place for kids and awesome staff!
Lisete Matias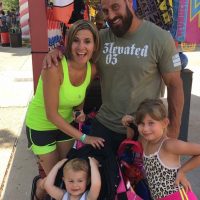 The passion that Dan and his staff have for the kids is second to none. He runs an outstanding program and it shows. The kids are always willingly engaging in the activities and progressing in every class. My daughter loves the programs and I can't wait for my son to start. Excellent on all levels.
Dennis Pontani
Great place for kids! Awesome coaches! Fun, friendly place!
David Hyde
Coaches who Care! Great programs that the kids love!
Rob Young
View our schedule
& our convenient location
Access our birthday package!
Secure your spot and get started today with our EXCLUSIVE offer!
Free Bonus!
4 Tips on Building Your Child's Confidence
By opting into the web form above you are providing consent for FitKidz USA to send you periodic text messages. Standard rates may apply. You can reply HELP at anytime or learn more. You may opt-out anytime by replying STOP.
FAQs
How much of the planning will I have to do?
We can't decide who to invite, and there are a few other details that you'll need to be involved in, but we'll take care of planning activities, providing supervision and instruction, and handling the set-up and clean-up for the party.
Who will be supervising the party? I don't want my child's friends' parents to be worried.
Experienced martial arts instructors will be on hand to make sure that kids learn in a safe and carefully supervised environment.
My child loves martial arts but I'm not sure about their friends. Will they have fun, too?
Of course! Even kids who have never studied martial arts can find something to love at our parties. They might discover that they have a real gift for kicking and punching (in a controlled environment.)
I don't want my child to learn that violence is acceptable. Won't giving them a martial arts party make them think it's okay to be aggressive?
Not at all. Martial arts instruction teaches that students must respect instructors, one another, and themselves. We never encourage aggression in or out of our martial arts school.
I'm worried that my child will be bored. Is the whole party like a martial arts class?
No. Basic martial arts instruction is part of the fun, but we also provide kids with fun activities and games during the party. Nobody will be bored.
What if my child decides they want to take martial arts classes after the party?
We'd be thrilled to have your child as a student. We can provide you with information about age-appropriate classes to take home and review at the end of the party – and the same goes for your child's friends' parents, too.
Access our birthday package!
Secure your spot and get started today with our EXCLUSIVE offer!
Get Started Today